In This Issue...
Letter from the President 
Legislative Priorities Lobby Day Registration
Advocacy Update -  State Issues: Governor's Priorities, SBA PPP Information Video, TRAPAC Fundraising
Marsh Wortham - New Employee Benefits Portal/ Healthcare access
Southwest Financial - Free Banking Program
Lifelock - TRA's Identity Theft Protection Discount Program
Amerex - Business Energy Program Savings Program

Grocery Industry Update -  WIC/SNAP 

---



Letter From the President
Greetings Texas Retailers:
I hope you and your families are safe and staying warm during the unprecedented winter storm which is impacting all of Texas this week. We are confident you are all hanging in there, managing through the various rolling blackouts and water outages, while taking care of your employees and communities as best as possible during this time. Rest assured that your team here at TRA has been in regular touch with state and local authorities to provide updates from the retail industry, as well as also lobby for prioritization of critical retail distribution infrastructure to help keep critical and perishable products from spoiling and also moving to stores. Thankfully, it looks like we may get some help from the weather this weekend, with temperatures rising to help provide overall relief.
As of this writing, the COVID-19 vaccine is now being administered across the state, and in increasing numbers by the day (the current weather event not withstanding). A continued big thank you goes out to several of TRA's member companies who are administering the vaccines in their stores, as well as supporting larger mass vaccination sites around the state. We are optimistic that the COVID vaccines will continue to be administered at an increasingly faster pace, so that we can truly start to see the light at the end of the tunnel in the coming months. The good news is that as the number of vaccinations go up, the number of COIVID cases, hospitalizations and deaths are going down at an increasing pace as well. Earlier this month, Texas Governor Greg Abbott extended the statewide COVID disaster declaration, which he has done on a monthly basis since the COVID pandemic began on March 13, 2020. As a result, Texas retailers still have occupancy limits (up to 75%), must require face covering of all individuals, and ensure social distancing. The TRA team continues to be a key resource for our members and industry, as well as for local, state, and federal authorities who are making critical decisions for the communities across our state during the COVID pandemic. We are keeping members as up to date as possible via the TRA website – www.txretailers.org, and suggest you check it often for important updates, details, and resources. We believe our collective efforts have been effective throughout the pandemic and we are committed to continuing to be your trusted voice.
On the advocacy front, The 87th Texas Legislature has now been in session for a little over one month; however, the pace of this session has been very slow, mostly due to the COVID pandemic, but we can now also add a lost week due to the winter storm this week. So far, the highlights of the session have been that committee assignments have been announced by both the State Senate and State House, which will allow committee hearings to begin, and a few have. Another major highlight was Governor Abbott's State of the State address on February 1st. Texas Governors use this occasion to lay out legislative priorities, which they designate "emergency items."  This means that legislation on these topics can be taken up by the Legislature and voted on within the first 60 day of the session, which began Jan. 12. In his State of the State speech, Governor Abbott designated "providing civil liability protections for businesses that were open during the pandemic" as one of five emergency items this session. TRA and our fellow business focused trade associations here in Texas are working together to see liability protections passed in Texas, and we aggressively lobbied the Governor and his staff to make sure that liability protections would be one of his designated emergency items, so we are very pleased with this outcome. A bill to do this (based on the Cornyn bill at the federal level from last Congress) is being finalized and we feel optimistic that given the boost from the Governor we'll see it pass.
As we have mentioned on the various calls since the session began, the typical public access to the Capitol will be almost impossible and likely very limited for most of the session. As such, your TRA team is working with elected officials, educating them about the importance of retail in Texas, so that we can continue to effectively represent retailers this coming session, even with the limitations COVID-19 has created.  One important way in which we'll make our mark this session will be through our Texas Retailers Lobby Day at the State Capitol, which will be held virtually this session, on Wednesday, March 3rd. For more information about Lobby Day and to register to attend click here.
At the federal level TRA remains very engaged with our national retail association partners, as well as our new Congressional delegation to ensure that retail industry priorities are included in the next COVID relief bill, which is known as the American Rescue Plan. President Biden rolled out the American Rescue Plan, his COVID relief package, as his first piece of legislation shortly after taking office. The 117th Congress is fully in place with a slimmer Democratic majority in the House and a new equally divided (50/50) make-up in the Senate, with the Democrats in the majority due to Vice-President Harris being the presiding officer of the U.S. Senate, and serving as the tie-breaking vote. As a result, the Congress has passed budget resolutions in both chambers to facilitate passing the President's COVID relief bill via reconciliation rules, which only require a simple majority in the Senate. We expect once the Congress returns from the President's Day recess, they will spend the last part of February and early March working to pass the bill. TRA has been working diligently in lobbying the Texas Congressional delegation, the Congressional Leadership, and the new Biden Administration on our federal priorities during the 117th Congress. In fact, since the Congress was sworn in, TRA has held virtual meetings with six of the seven new members of the Texas delegation.
As always, thank you for your continued support of TRA and please don't hesitate to contact me or any member of the TRA staff team at any time.
Stay safe and warm everyone.
George Kelemen
TRA President/CEO
---
Lobby Day Event | March 3, 2021
Click Image to Register
---
Advocacy Update


State Issues

State of the State
On February 2nd, 2021, Governor Abbott issued his State of State Address where he highlighted his legislative priorities and emergency issues for the 87th legislative session. Emergency items can be taken up during the first 60 days of the session.

This session, the Governor has declared the following five items as emergencies:

Expansion of Broadband Access
"From medicine to education to business, broadband access is not a luxury—it is an essential tool that must be available for all Texans."

Civil Liability Protections
Declaring COVID-related civil liability protections to businesses who have operated in good faith.
"I am asking the Legislature to quickly get a bill to my desk that provides civil liability protections for individuals, businesses, and healthcare providers that operated safely during the pandemic."

Law Enforcement Funding
"To keep Texans Safe, and to discourage cities from going down this dangerous path, we must pass laws that prevent cities from defunding the police."

Election Integrity
"One thing all of us should agree on whether you're a Republican, Democrat, or Independent, is that we must have trust and confidence in the outcome of our elections. That why Election Integrity will be an emergency item this session."

Damon Allen Act
"To fix our flawed bail system and keep dangerous criminals off our streets, I am making the Damon Allen Act an emergency item this session."
In 2017, DPS trooper Damon Allen was killed during a traffic stop by a man who was out on a $15,500 bond following an arrest for assaulting a peace officer. Representative Kyle Kacal filed legislation during the 2019 legislative session, that would create a Bail Advisory Commission to restrict the release of certain defendants on bail. The bill passed the house, but ran out of time in the senate.

The Governor also highlighted the following priorities:
• Funding public education and bolster civics education;
• Expand telemedicine;
• Focus on mental health challenges;
• Ensure that all Texans have access to healthcare that protects from pre-existing conditions;
• Ensure public safety by "backing the blue" and providing training for law enforcement;
• Secure the border by expanding efforts to end human trafficking and drug smuggling;
• Protecting the 1st amendment by keeping local officials from closing churches during pandemics;
• Become a 2nd amendment sanctuary state by protecting against local officials treading on second amendment;
• Stop targeted abortions due to race, ethnicity or disability;
• Balance a budget without raising taxes;
• Making cocktails-to-go permanent; and
• Ensure that products with the Texas brand are made by Texans by providing job training and helping Texans hiring Texans.
---
SMALL BUSINESS ADMINISTRATION'S PAYCHECK PROTECTION PROGRAM
AS UPDATED BY THE ECONOMIC AID ACT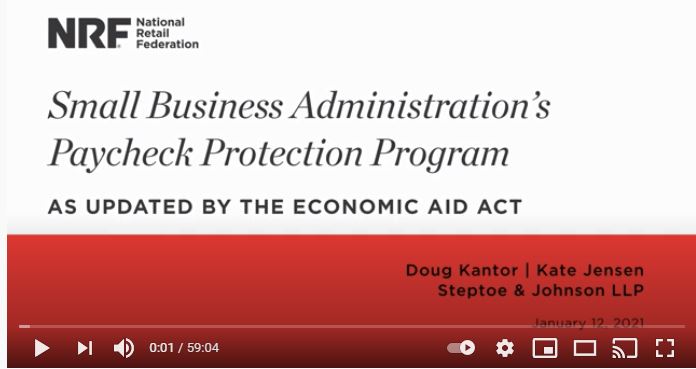 ---
TRAPAC

The Texas Retailers Association and the Texas Retailers Association PAC (TRAPAC) endorse the following members of the Texas Legislature for election in the 2020 general election. TRA/ TRAPAC endorsements are based on professional connection to the retail industry (retailers, vendors, supply chain, etc..), support for the retail industry through legislative votes on issues of importance to Texas retailers, and sponsoring of and/ or championing of legislation important to Texas retailers. Click here to view the official list of TRA endorsements.


Email [email protected] or visit www.txretailers.org to make a donation to TRAPAC!
---
Texas Retailers Association Benefits Program 
The Texas Retailers Association (TRA) has been working to help solve a problem affecting our members and every business in the US—access to affordable healthcare. COVID-19 has made that need more apparent than ever.
We are proud to bring you TRA Healthcare Solutions, available at the TRA Benefits Center website. With this solution, we can finally provide our members with access to high-quality, cost-effective health solutions that are flexible enough to meet your specific needs.
We fought to make sure that you would have access to medical, dental and vision plans from national carriers, but we didn't stop there. This program will also provide access to cloud-based HR services, comprehensive business insurance, and new features to respond to COVID-19 like affordable telemedicine and virtual doctor visits.
Be on the lookout for more information from the TRA Benefits Center highlighting the benefits exclusive to TRA members. I encourage you to take advantage of this opportunity to support your employees.

Contact
David J. Hebert, Vice President - Client Executive
Office 713.276.8012
Cell: 281.606.2247
[email protected]

Christina Scott, Vice President - Client Executive
Office 572.379.2698
Cell: 512.497.4626
[email protected]


---
 At Southwest Financial, we want to help you discover the benefits of investing in your employees' financial well-being.  Partnering with Southwest Financial creates a value add to your current benefits package, without any additional cost.  It also provides a banking relationship for your employees.  
Banking doesn't have to be hard or stressful; it can be easy and seamless.  We all know that less stressed employees are more engaged and more productive.  How much efficiency would you gain if all of your employees were enrolled in direct deposit – not to mention how much you would save!  With direct deposit with Southwest Financial, your employees can have access to their paycheck as soon as we do (usually a day early). 
Not all financial institutions are created equal and we will prove it.  Since 2015, Southwest Financial has rewarded our members with almost $4 million in cash – just for doing business with us!  In 2020, we gave 95% of our net income to our membership! 
Start giving your employees access to a free financial wellness benefit by partnering with Southwest Financial.  Contact Venoka Daniels today at [email protected] or 214-580-9930 to setup your virtual company enrollment.
---

As a member, you receive 10% off LifeLock services and you can live freely knowing that LifeLock is searching over a trillion data points every minute of every day looking for potential threats to your identity. When LifeLock finds your personal information being used, they will alert you through their patented Identity Alert System. Click here to sign up today!
---
 A TRA-endorsed service provider since 2002, Amerex is the largest OTC (wholesale) natural gas, electricity and emissions trader in North America. Their real-time involvement in the wholesale energy market and their customized service has consistently yielded significant cost savings to TRA members. Save on your gas, or electricity! Click Here to Learn More
Email: [email protected]

www.amerexenergyservices.com 


---
The Texas Department of Health and Human Services continues to dispense additional funds on Lone Star Cards:  the amounts have been increased to the maximum for family size plus 15%.
In January, the total amount was over $470 million to over 3.6 million customers.  This is close to a 25% increase over last year Jan. 2020 (prior to pandemic).
The agency is working on a plan to restart the P-EBT program which ended in Dec.  This program will compensate families who have school age children on free or reduced lunch who are not attending in person school.  We anticipate, once announced, the amounts will be retro active.
Regarding WIC, there were about 675,000 participants last month.  The amount redeemed is running close to 2.5% behind same time last year (prior to pandemic).  We assume this is due to the lack of the ability for WIC to be transacted on line.
A recent survey by BIZRATE insights found 84% of customers are at least somewhat concerned about contracting COVID while shopping in a supermarket.  Another interesting fact, customers rating their on line shopping experience:  27% gave it an 8 out of 10.  Also 54% said they chose on line shopping due to COVID, only 14% thought they saved money shopping on line. Click here for a link to the survey.

The pandemic has raised the profile of Food Safety.  Customers have consistently stated they are selecting a supermarket on the reputation for a safe shopping experience plus fresh food. Click here to read more tips for food safety.
For questions on Grocery Industry Issues, please contact Gary Huddleston
---